The following is a reprint of an article published in the Taos News January 26, 2016.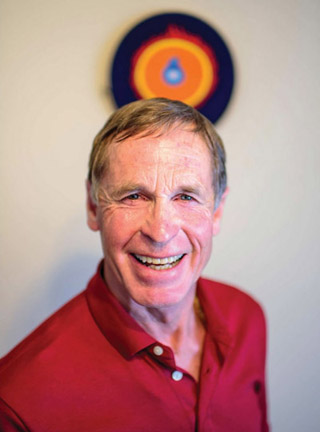 Listening to the body is the foundation of James Fred Eric Ritchie's massage practice and the curriculum at the Taos School of Massage. He believes that the tissue of the body and the client have the information that will help them heal.

For the therapist, tuning in to what the client says and responding to their needs is key to a successful treatment. Ritchie advocates leading with questions in order to help the client listen to the signals their body is sending.

"If I am quiet and listen to the other person, it allows them to listen to themselves," says Ritchie.

When the client has a suggestion that might be helpful and isn't harmful, Ritchie tries to find a way to incorporate that suggestion into the treatment and recommends his students do the same.

When he practices or teaches, Ritchie first listens and then can often help to set a new context for the discussion. We may say that we are tense or have tension. Ritchie says we can reframe that to be, "I am tensing my shoulders," so that it is clear that we can take action and let that tensing go. He believes that we don't have to over-identify or become our pain.

He often asks his clients, "Is it OK if the pain leaves?" In this view, the body is not a problem; it is a project.

For the past 36 years, Ritchie has been working in the healing field. His first major training was at the Institute of Total Person Facilitation in 1980. Even before that time, he had studied Shiatsu massage and other forms of touch for healing.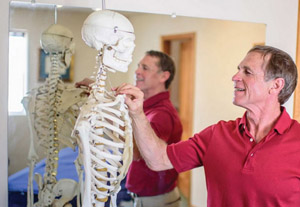 His training led him to focus on the whole person and on enhancing the body-mind connection. He has worked as a massage therapist, trainer and teacher, corporate facilitator and sports instructor. His experience as an athlete helps him work with other athletes.

"You can't tell a runner, 'Don't run.' You can't even tell a runner to run less, really," says Ritchie. "But if a person is having knee pain, you can tell them to go over to the gym and do straight leg lifts with weights, and usually the knee pain will reduce. You can give a runner more to do, but not less."

His approach to sports massage, also known as soft tissue mobilization, includes the active participation of the client, along with deep tissue massage and can lead to enhanced performance. Ritchie first became interested in sports massage when he was bicycling with two other riders. One of the other riders began to pull away from the group farther and farther each week. This rider was getting weekly sports massage, and soon so was Ritchie and many of his fellow bicyclists.

Not surprisingly, the Taos School of Massage, founded by Ritchie in 1994, focuses on more than massage. Ritchie says that it is about human potential: self-healing, addressing chronic pain, making decisions with the whole body and incorporating Eastern and Western approaches to healing.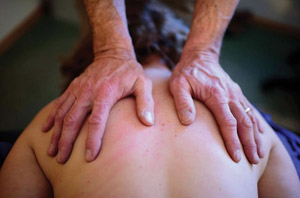 In addition to massage, his students learn anatomy and physiology, CPR, business skills, professional ethics and applied kinesiology, which uses a series of tests to find muscle weakness that reflects imbalances in the body and then treats the imbalances though acupressure and massage.

At the beginning of the training, Ritchie asks the students, "What are your miraculous goals for school, and what would be outrageously successful?" Knowing those goals, Ritchie tries to provide the learning needed to fulfill the vision of each student.

Instead of relying on textbooks, the students start the day by moving their bodies with awareness, in order to learn the muscle groups. According to Ritchie, this is "super learning" – a more effective way of remembering than studying a book.

The curriculum is typically offered two days a week over the course of 11 months for a total of 650 hours of instruction. The Taos School of Massage is registered with New Mexico State Board of Massage Therapy. Graduates are qualified to take the state licensing exam.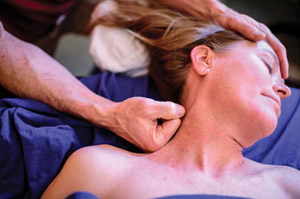 Taos School of Massage graduates work all over Taos County at health clubs and spas, including Ojo Caliente Mineral Springs and in private practice. They report that the body mechanics and self-care techniques they learned allow them to do more massages in a day and experience less burnout. Some of the Taos School of Massage students have gone on to study additional healing techniques, such as acupuncture, Feldenkrais and Ayurveda. The next class at Taos School of Massage is planned for this coming May.

Norma Hoffman opened her own practice, Angel Fire Massage Therapy, after graduation from Taos School of Massage. She says that she learned all the basic knowledge she needed to qualify for the national certification that is required to practice in New Mexico and much more. Hoffman notes that because Ritchie is an athlete, he is very in tune with the needs of other outdoor adventurers.

Many of her clients are visitors to the Angel Fire area who come to participate in the outdoor sports there. At Taos School of Massage, Hoffman learned that listening to the needs and concerns of the client is key to being able to effectively work with that person. She says, "Every snowflake is different; we need to listen to each person."

In addition to his body work practice and Taos School of Massage, Ritchie has worked with couples in mediation. He says he helps them go from, "I want to get my way" to, "How can we work together to get a clear agreement?"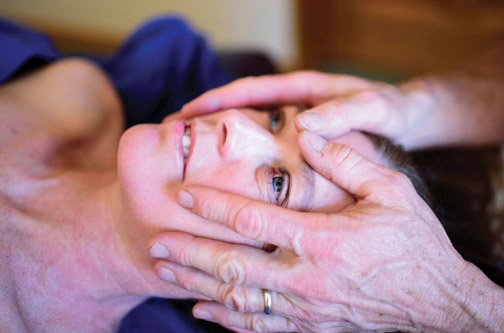 Along with Dr. Elin Ritchie, his wife, he is planning a four-day workshop on longevity and loving relationships called Couples Renewal in Costa Rica this February and in Taos this September. Ritchie will focus on massage, movement and visualization. He says that some of the key concepts offered in the workshop can "begin to remove conflict in our lives and help our interactions with others be immediately clearer, so that misunderstandings can be settled easily or avoided altogether."

Dr. Ritchie will lead sessions on slowing the aging process and address myths about aging. The focus is on couples who are between 50-80 years old, but the workshop is open to people of any age.

In all the work he does, Ritchie believes that if we can stop and listen, we have a better chance to become more aware of our automatic responses and to be open to healing. He says, "We can keep trying to open beyond our own patterns."

For information, Richie practices and holds the Taos School of Massage at Venado Plaza, on the Ski Valley Road, 94 State Highway 150; phone (575) 758-2725. For more information and to see some of the DVDs on sports massage, deep tissue work, joint mobilization for sprained ankles, painful knees and other parts of the body, visit www.taosschoolofmassage.com.


Thanks to massage model Ms. Thompson.